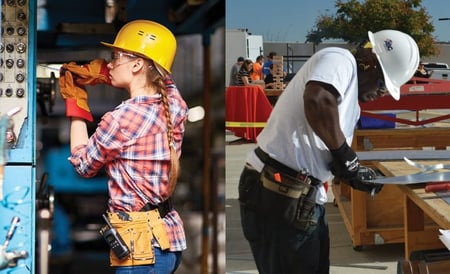 NOTICE TO CONSTRUCTION CONTRACTORS
The Peralta Community College District (District) has elected to become subject to the State of California Uniform Public Construction Cost Accounting Act. These procedures provide for alternative procedures when the District performs public project work by contract.
Public projects of two hundred thousand dollars ($200,000) or less may be let to contract by informal procedures set forth in the Act.
Public projects of sixty thousand dollars ($60,000) or less may be performed by the employees of a public agency by force account, by negotiated contract, or by purchase order.
Public projects of two hundred thousand dollars ($200,000) or more require formal bids.
Peralta Community College District has contracted with Colbi Technologies to provide a web-based process for CUPCCA registration called Quality Bidders. To get started, please Click here to sign up
Please contact ,Brian Slaughter with any questions at bslaughter@peralta.edu You may also contact qbsupport@colbitech.com or call 714-505-9544 with any questions about the use of the Quality Bidders web-based tool.
During November of each year, Quality Bidders shall on behalf of the District, mail, email or fax as applicable a notice to all construction trade journals inviting all licensed contractors to submit the name of their firm for inclusion on the District's list of qualified bidders for the year.
The District may create a new contractor's list starting January 1st of each year (Public Contract Code 22036). The Peralta Community College District may include any contractor's name it desires on the bidders list, but must include, at a minimum, all contractors who have properly provided the District with the required information, either during the calendar year in which the list is valid or during November or December of the prior year. The list will automatically include all contractors who submitted one or more bids to the District during the preceding year. A contractor may have their firm added to the contractors list at any time by providing the required information.
Thank you for your interest in working with Peralta Community College District.