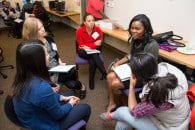 Commitment to Diversity
Throughout its history, the Peralta Community College District has been a leader in equal opportunity. Today, we live in a diverse country within which individuals and cultures from around the world work together. In order to remain a leader, we cannot afford to bypass talented individuals who can greatly benefit our community, and one of the greatest contributions is through teaching.
We welcome faculty from diverse backgrounds to serve as interns/mentors, provide high-quality learning opportunities, and enhance the educational needs of our multicultural East Bay community.
The 2023-2024 FDIP application cycle is now closed and will re-open January 2024
For more information:
Job announcements and openings in the Peralta Community College District may be found via

https://peraltaccd.peopleadmin.com/postings/search
Sign up here for the email list to receive notifications about the application cycle and other updates.
Here is some more information on the benefits of the program: FDIP Benefits
Sample FDIP Calendar Overview
FDIP Portfolio Overview — Participants will prepare a teaching, counseling, or librarianship portfolio demonstrating their knowledge, interest, and abilities.
We welcome applications from those who are mid-career professionals, recent graduates, and graduate students who have completed at least half of their coursework towards a MA in a currently existing discipline or department at Peralta.
Use the California Community College's definition of Minimum Qualifications in order to check how your qualifications match our course offerings, along with the Peralta Community College District class schedules at www.peralta.edu to understand what discipline you'd be able to serve as a faculty member.
For more information, please contact the Faculty Diversity Internship Program Coordinator Vanson Nguyen
fdip@peralta.edu
510-981-2924