If you are interested in applying for the program: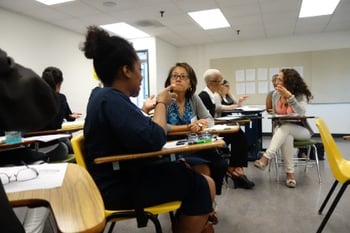 The 2023-2024 FDIP application cycle is now open. Please go to: https://peraltaccd.peopleadmin.com/postings/6646. The application closes June 9 at 3 pm. Other job announcements and openings in the Peralta Community College District may be found via https://peraltaccd.peopleadmin.com/postings/search
For more information, please join our mailing list here, visit our website here, and watch for future announcements.
Documents to prepare in the meantime:
Cover Letter: It MUST state the discipline(s) in which you are eligible to serve as a faculty member and WHY you want to work in that discipline. Many applications do not get forwarded to the selection committee for not including this basic information.

Step 1: Check the Peralta Community College District Class Schedule to see the courses we offer.
Step 2: Check the California Community College Minimum Qualifications Handbook to see what you're able to teach based on your degree or industry experience (for Career/Technical Education disciplines).

Note: You can participate in the program even if you've only earned HALF of your credits to your graduate degree. If you will not have earned all of the credits by the time of the application, but intend on completing them by the beginning of the program (Fall term), then please include a letter from your dean to demonstrate your intention of completing those units.
Many applications do not reach the selection committee because the discipline is not included in the cover letter OR the candidate has not identified a discipline that matches their education.

Resumé or CV:

Community colleges are focused on teaching and service to the college and not research or publications. Your resumé or CV should reflect this emphasis. Please include any teaching or service work that demonstrates your ability to work with diverse populations of students

Essay Questions


Prepare a written response (600 words) to the following prompts:

The Faculty Diversity Internship Program's mission is to help serve a dynamic and diverse student population, through a faculty body that better reflects the Peralta Community College District's vibrant community. Describe how you reflect and/or connect with the PCCD student population. How do your personal and/or experiences demonstrate a commitment towards diversity, equity, inclusion, and anti-racism, in order to help achieve this goal? Suggested word count: 300-600 words.

What would you most like to learn or experience in order to prepare yourself to become a successful community college faculty member?

Unofficial Transcripts:

These should have the name of the degree-granting institution and the title of the degree you have or will soon earn.

References:

Do not submit any reference letters with your application. We will ask you to contact your references following the first round of screening. Please choose references who you have worked with in the last five years in an academic or professional capacity.
Note: If any of the above items are missing from your application, your application will not be reviewed by the selection committee.
Other Documents: In the past, applicants have included other items, like syllabi, philosophies of teaching and learning, diversity statements, and other appendices. However, these materials are unnecessary for a successful application.