The Peralta Community College District Governing Board
The Peralta Community College Board of Trustees is a seven-member elected-board that meets on the second and fourth Tuesdays of each month (with the exception of February, April and August) at 6 p.m. virtually via Zoom Webinar until further notice. The meetings are open to the public and are Broadcast Live on KGPC, 96.9FM, and are also televised on Peralta Colleges Television (PCTV), Cable Channel 27 in Alameda and Berkeley, and Cable Channel 28 in Emeryville, Oakland and Piedmont, with a meeting repeat airing the following Wednesday at 11 p.m. Meetings are also viewable live on Peralta's YouTube Channel.
Board of Trustee Members
Board Member
Information

Bill Withrow

Trustee – Area 1

Bill Withrow has a Bachelor of Science in business from the University of Colorado and an MBA in finance from Harvard University. He served for 24 years on active duty in the U.S. Navy, retiring with the rank of Captain, Supply Corps. He also worked as a financial professional for the past twenty years, retiring from Wells Fargo and Company. For the City of Alameda, he served as a Councilmember and Mayor. As Chair of the Board of Trustees of the Robert Lippert Foundation, he helped to provide college scholarships to students and charities in Alameda. Term began 11/02/2004. Current term ending 12/2024.

Kevin Jenkins

Trustee – Area 2

Kevin Jenkins has served on the Peralta Community College District Board of Trustees since December of 2020. Kevin is a proud alumnus of the Peralta Community College District. Kevin is a native Oaklander. He earned his Master's of Public Administration from California State University East Bay. Kevin earned a Bachelor's Degree in Urban Studies and Planning from San Francisco State University. Kevin has worked in local government for many years, working to influence systems to improve the lives of people from disenfranchised communities. Kevin currently works with local community-based organizations to address societal inequities. His community involvement includes serving in leadership on the Alameda County Public Health Commission and Peralta Citizens Bond Oversight Committee. Term began 12/08/2020. Current term ending 12/2024.

Linda Handy

Trustee – Area 3
lhandy@peralta.edu

Linda Handy has a long resume of community service and college administration experience. She has a Master of Science in organizational development and analysis from the Weatherhead School of Management at Case Western Reserve University. Handy is a Laney College alumna and a former president of the Oakland Coalition of Congregations. She represents part of the Laurel district as well as the San Antonio, Fruitvale, Brookdale, Fairfax, and Maxwell Park districts in Oakland. Term began 11/05/2002. Current term ending 11/2022.

Nicky Gonzalez Yuen

Trustee – Area 4
nyuen@peralta.edu

Nicky González Yuen has served on the Peralta Community College District's Board of Trustees since November 2004 representing Berkeley, Oakland, and Albany. He has been an instructor at De Anza Community College since 1989 where he teaches courses covering U.S. politics, grassroots political organizing, environmental politics, and race, class, and gender. Trustee Yuen serves on his faculty union's Executive Council and co-directs the union's student internship program. He also co-directs the California Campus Camp, a statewide training program to empower community college students, faculty, and staff to build democracy and support their communities. Trustee Yuen earned both his doctorate and J.D. degree from UC Berkeley. Term began 11/02/2004. Current term ending 12/2024.

Cindi Napoli-Abella Reiss

Board President – Area 5
cinapoli@peralta.edu

Cindi Napoli-Abella Reiss has been an educator within the California Community College System for over twenty years. Napoli-Abella Reiss has been a vocal advocate for the arts, civic engagement, global education, and equity issues in higher education at the local and state level. She has spent much of her academic work researching African-American and Latino/a students' success rates and has worked to increase success and persistence through pathway and learning communities at her own college through Global Education initiatives and Pipeline projects. Napoli-Abella Reiss has been very active in governance as vice-president of the West Valley Academic Senate and on many committees of the State Academic Senate (ASCCC) in the areas of Curriculum, Governance, Internal Policies, Legislation and Advocacy, and Education Policies. She is a Commissioner on the Accreditation Commission for Community and Junior Colleges (ACCJC)., and has been a board member of Oakland Leaf, an educational non-profit organization for Oakland youth, since 2012. Napoli-Abella Reiss holds two B.A. degrees in Comparative Literature and in Art History from the University of California; a Master's in Art History from San Francisco State University; a Doctorate in Art History from the University of California, Irvine; and a Certificate in Educational Leadership from Harvard University. Term began 12/07/2018. Current term ending 12/2022. (Photo: Paul Kuroda)

Dyana Delfín Polk

Board Vice-President – Area 6
ddelfinpolk@peralta.edu

Dyana Marie Delfín Polk is a third-generation Mexican-American community college graduate, public education advocate, and political organizer. She received her Associate's degree from Merced College, her Bachelor's Degree in American History and Chicano Studies from UC Berkeley, and her Master's degree in Public Policy from Mills College. As a community college student, she advocated for transferable courses to the UC system when they were at risk of being cut at her campus, which began her work as an education advocate. Dyana recently worked as Associate Executive Director at HOMEY, a violence prevention nonprofit serving Latinx and African American youth in San Francisco's Mission District, addressing systemic violence in communities of color and providing a pathway for at-risk youth to pursue education. Currently, she works as a legislative aide in the Office of Berkeley Mayor Jesse Arreguín, working on education and health policy as well as constituent services. Dyana represents the North Berkeley Hills, parts of Elmwood, Claremont, and parts of North Oakland and Montclair. She is a longtime resident of Berkeley's Northside neighborhood and is active in local politics. Term began 12/08/2020. Current term ending 12/2024.

Julina Bonilla

Trustee – Area 7
jbonilla@peralta.edu

Julina Bonilla is a community college graduate and received her Bachelor of Arts from UC Berkeley. She is a former Oakland elementary teacher and eventually moved into workforce development providing education and job training to young adults in Northern California. Her community work and active memberships include Board Vice President of Tradeswomen Inc., National Women's Political Caucus-AN, and she served as a member of the Oakland Workforce Investment Board and co-chair of the Oakland Youth Council. Today, Bonilla is the Program Director of the West Oakland Job Resource Center. Term began 12/09/2014. Current term ending 11/2022. (Photo: Paul Kuroda)

Leesa Hogan

Student Trustee
LEHO0085@cc.peralta.edu

Leesa Hogan is a 3rd generational Oakland California resident. In 2009 she returned to Merritt and had the privilege of sitting on the ASMC Senate and being a member of the Black Student Union. The exposure from being a part of student government provided her with experience on how to be a voice for herself, her peers, and the community she lives in. She currently serves her community of Oakland by being an active member of the ASMC as Vice President of Prepertory Governance and working as an Early Childhood Educator, where she promotes an all-inclusive non-bias education philosophy. She wants to do her absolute best to promote the same philosophy for all students within her district. She wants to help ensure that every student that attends a college district has the resources available to reach their full potential. To the best of her abilities, she will participate in discussion forums on upcoming events and ideas and collaborate regarding student issues so that she can be the change she wants to see in the community and world she lives in. Term began 7/01/2022. Current term ending 6/30/2023.

Sarah Latino

Student Trustee

PHOTO TBC

BIO TBC

Term began 7/01/2022. Current term ending 6/30/2023.
District Map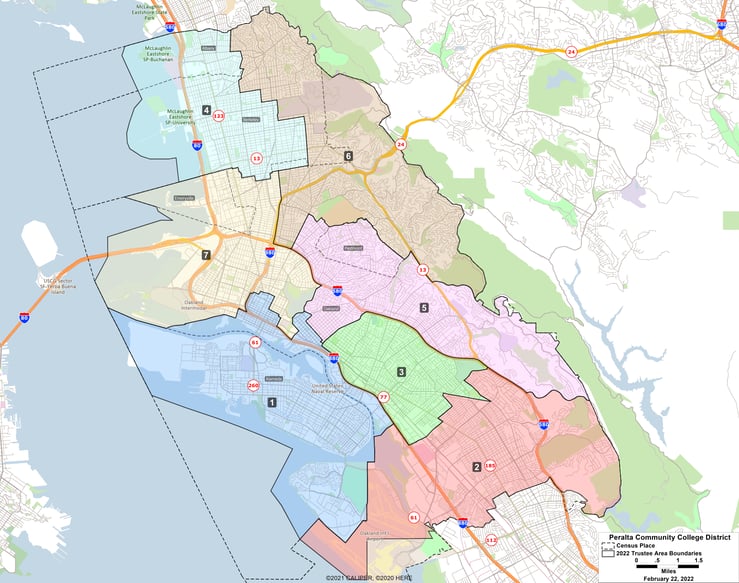 Attending/Viewing the Board of Trustees Meetings
The Peralta Community College District will be holding Board of Trustees virtual meetings via Zoom Webinar.
This Notice of Teleconferencing is in compliance with Executive Order N-25-20.
Meetings of the Peralta Community College District Governing Board are Broadcast Live on KGPC, 96.9FM, and Peralta TV on Cable Channel 27 in Alameda and Berkeley, Cable Channel 28 – Oakland, Emeryville, and Piedmont; and Channel 99 on AT&T U-Verse. Listed agenda times are estimates. Live stream video of the meetings, agendas, minutes, and all open session reports and meeting materials are available for viewing on the following:
BoardDocs: https://www.boarddocs.com/ca/peralta/Board.nsf
And here on the Board of Trustees site.
The meeting can also be viewed Live on Peralta College's YouTube link: https://www.youtube.com/channel/UCTEVyZCQ1p_yqMRafmQFUww
PLEASE TURN OFF YOUR CELL PHONES DURING THE MEETING – THANK YOU!
Public Comment
In order to equitably facilitate public comments at the Board of Trustees meetings, the following is required:
Those participating in public comment must register for the virtual webinar(s) at the following link(s): https://us06web.zoom.us/webinar/register/WN_Sg5ngZaoRxO1r7cLm8cWRQ
**NOTE: If you plan to cede your time to another speaker, please send an email to the Board Clerk or contact her during the meeting by chat prior to Public Comment. Please provide your name and the name of the person you will delegate your time to. A maximum of two people can cede their time to another.**
The next REGULAR Board Meeting for the Board of Trustees will be held on Tuesday, December 13th. Closed Session will begin at 4 p.m., then back into Open Session at 6 p.m.
You can register for the meeting here.
You can find the agenda here.
***The next SPECIAL Board Meeting for the Board of Trustees will be held on Monday, November 28th.***
You can register for the meeting here.
You can find the agenda here.
After registering, you will receive a confirmation email containing information about joining the webinar.
Upon registering for the meeting, you will see a start time of 4 p.m. At that time, the Board will begin in Open session, hold a public comment period on closed session items, then convene into Closed session. A static page will remain on the screen, indicating the Board has adjourned into Closed Session and will resume the regular Public Session meeting at 6 p.m.
**Per AP 2345 re: Time Limitations**
"Communications by members of the public will be limited to 3 minutes each. Time may be yielded to another speaker up to a limit of six additional minutes provided there are no more than five speakers for the agenda item or in the non-agenda category. At the discretion of the Board President of the Board, total time allowed for speakers for an agenda item or in the non-agenda category may be limited to 15 minutes. In order to limit total time, the Board President may limit individual speakers to 1 or 2 minutes. If more requests are received than can be honored within the meeting's time limit, they will be scheduled for the subsequent meeting in the order received."
PLEASE NOTE:
A total of 45 minutes is allowed for public comment
Between 1-3 minutes will be allowed per speaker, depending on the number of speakers that have signed up for public comment.
The list of public comments speakers may need to be cut off to remain within the total allowed time frame.
More Information
Sign up to receive Agendas & Minutes email updates
Special meetings, emergency meetings, and retreats may be added to the above calendar and will be posted in accordance with Brown Act regulations.
All agendas are posted on the Board website under Agendas and on BoardDocs.
Please View Board meetings, agendas, minutes, and background materials here on our YouTube link: visit Peralta's YouTube Channel