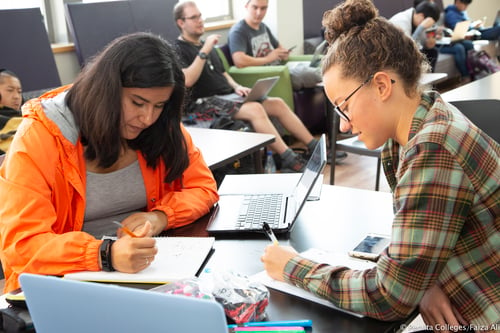 Thank you for your interest in our Dual Enrollment program. We hope you'll take advantage of this opportunity to get started on your college and career pathway before you graduate from high school.
Here are a few things you should know about Dual Enrollment:
For concurrent enrollment students and non-CCAP (College and Career Access Pathways) dual enrollment students, the summer max is 9 units. During fall and spring, it is 11 units.

For CCAP dual enrollment students the limit in fall/spring is 15 units and for the summer it is 9 units. For CCAP dual enrollment courses–students can only enroll in the courses listed in the CCAP agreement.

High school students are excused from paying tuition and fees for up to 15 units of approved coursework per semester.
All courses you take from the college will appear on your permanent college transcript. You may also receive high school credit for these courses. Be sure to check in with your high school counselor to ask about that.
Dual Enrollment is meant to help young people get an early start on their Career Technical Education and their path to college graduation. Dual Enrollment does not replace courses that are offered at your high school and you may not take recreational courses under the Dual Enrollment program.
Steps to Dual Enrollment
Talk to your high school guidance counselor to choose a course that will help you reach your educational and professional goals.
Apply to one of the Peralta colleges.

Click here for the application.
Complete the

High School Special Enrollment

steps here

. They include a form be signed by a parent or guardian and a counselor at your high school.
Bring your high school transcript and a photo ID to the Admissions and Records office at the college.
Meet with a college counselor.
Register for classes.